Modern Bathroom door design
We are all aware of the value that bathrooms play in a home. These damp regions are also the most ignored when it comes to the design of the space and the furnishings. Although many individuals still use standard wooden doors for the bathroom, with time the appearance of these doors deteriorates, becoming mouldy and weathered. Because of this, you will require certain bathroom door designs that are capable of withstanding dampness.
Bathroom door design
Remember that this entrance makes the first impact while getting into the area, which has a distinctive design. Additionally, the appropriate material will be able to survive the places with a lot of moisture, therefore preventing the accumulation of unsightly stains and fungus. With the right choice, you will have a useful measure of security for your personal privacy as well as an attractive addition to the overall aesthetic of the home's interior design.
Bathroom Door based on material
It is essential to choose a model that is crafted from a suitable material and is designed to accommodate a number of essential necessities. Let's see.
Wooden bathroom doors
If you decide that the inside of your home would look best with a door made of wood, you may shop for one at a home improvement store. However, in order to avoid warping, you should use wood that has been treated to withstand high levels of humidity.
Fiberglass bathroom doors
It is a solution that is current, dependable, and simple for the majority of homes. The greatest qualities of fibreglass, such as resistance to high humidity and mould, may be incorporated into doors that have the appearance of being made of wood with this choice, which is one of its advantages. In addition to that, this is a decision that is economical.
Steel bathroom doors
The material is long-lasting and resistant to high moisture levels as well as dampness. These days, there are a variety of aesthetically pleasing styles from which to choose.
Plastic bathroom doors
Because plastic is water and moisture resistant, it makes a great material for bathroom doors, but also very durable, affordable, and simple to clean and maintain. In addition, there is a wide variety of colours and styles available on the market nowadays, which further contributes to the usefulness of this option.
UPVC bathroom doors
One option that is not only aesthetically pleasing but also practical is to put up a UPVC door in the bathroom. In the case that you decide to go with a classic white door, it will look great against standard white walls, mostly because its hinges will be hidden from view. In addition to that, given how thin this material is, it won't take up a lot of room.
After determining that installing a new door made of a certain material is the most suitable option for your house, the next step is to choose an appropriate style for the door.
Let's explore the possibilities present.
Modern bathroom door design
French bathroom door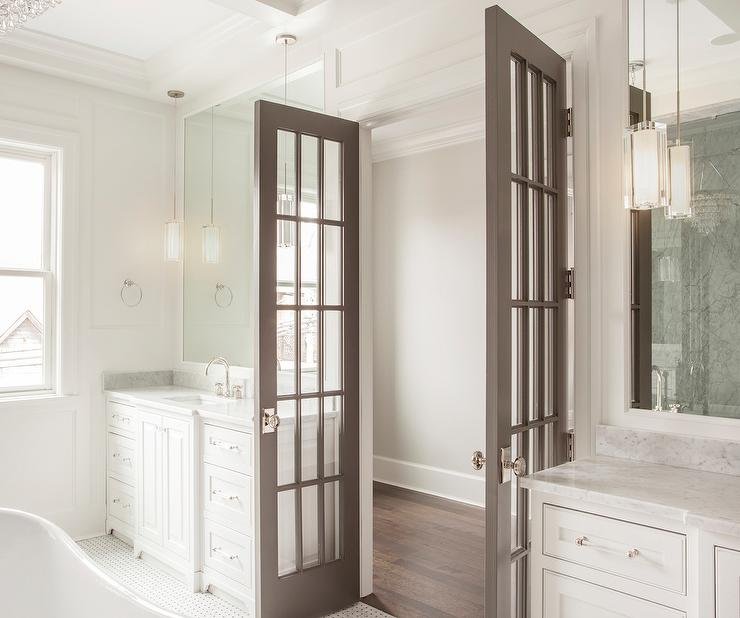 Even though this enormous entry is often a sophisticated option for the living room, there is no valid explanation why you shouldn't consider installing it as a one-of-a-kind and stylish alternative for your sizable bathroom instead.
Your area will be filled with natural light and have an air of sophistication thanks to the fact that this model is made out of glass and has glass panels.
In addition to that, selecting this alternative always adds a sense of sophistication all over the space.
Glass panel bathroom doors
This is a practical alternative for you if you feel that installing French doors in your bathroom would be too lavish of a choice for you, but you would still want your bathroom to have plenty of natural light.
Choose the proper layout and include a sufficient number of glass rectangular panels to provide an attractive alternative.
Transparent glass partition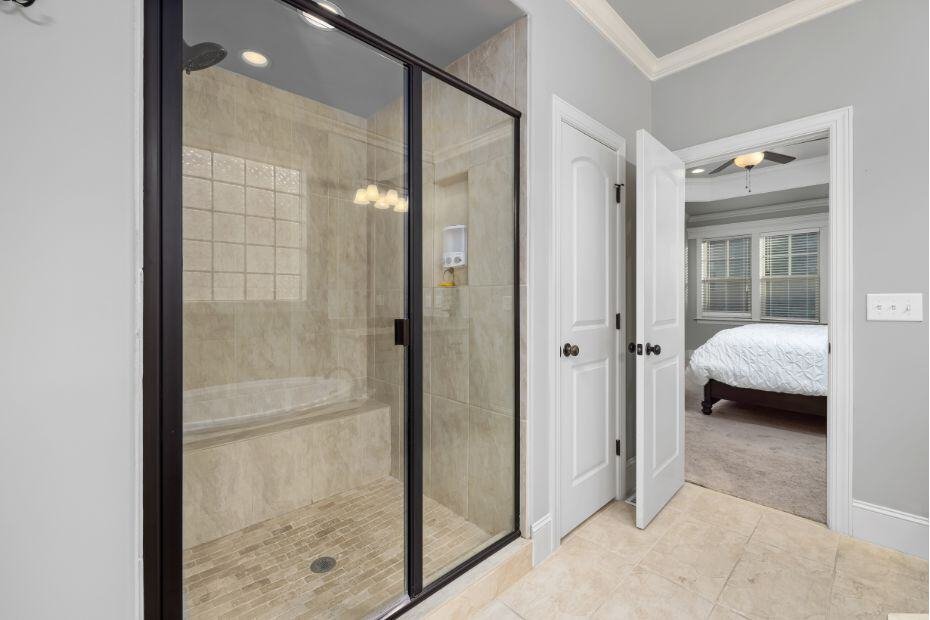 This sophisticated and one-of-a-kind alternative might be a good choice for you in the event that your bedroom includes a master bathroom that is an integral component of the space, and if maintaining your privacy is not a top priority for you.
When you take a shower, a significant amount of moisture and steam are generated, which might spread throughout the rest of the room if you do not have the right kind of bathroom door.
Additionally, you will have more room available to you since larger walls, which are required for more conventional alternatives, will not be required.
Stained-glass bathroom doors
This choice certainly stands out among the others in its own unique way!
In this, you should pay attention to the subtle patterns and create a wonderful multicoloured play of light.
It is up to you to choose from a number of different possibilities, such as a simple repeating pattern, an ornate design, or a real picturesque setting.
You have the option of transforming the whole entrance into a massive stained-glass window.
Additionally, there are a variety of alternative materials that might be used to make your door and have either a single panel of stained glass or numerous panels that have been meticulously positioned to make a particular design.
Frosted glass bathroom doors
This option, in contrast to standard glass bathroom doors, will provide the impression of more open space while preserving your sense of personal privacy. These days, however, frosted glass doors can be found in a wide variety of both patterns and styles to choose from.
The addition of frosted glass to the panels of the shower enclosure will result in the creation of a space that is sophisticated, functional, and up to date.
Sliding barn bathroom doors
One alternative that is currently trendy for bathroom doors is provided here.
In general, sliding barn doors may be adapted to practically any current architectural style, making them a versatile option for your house.
It is up to you to choose the appropriate style and variety in accordance with your own tastes and sense of style.
These doors are mounted on hardware that was built expressly for them and put directly above them.
Because of this component, the doors may slide, making this choice one that is functional, dependable, and endearing. In addition to that, the use of this solution will allow you to conserve a significant amount of space and will eliminate the hassle associated with closed doors since there will be no doorknobs on the doors.
Pocket bathroom doors
Because Pocket bathroom doors are sliding doors which fold back into the wall, you will be able to conserve important space, which is something that may be essential in smaller apartments.
You will be able to make the most of the available space in your bathroom if you install a door that slides into a pocket in the wall; however, the process may be quite challenging, and you will need assistance from a professional.
Mirrored bathroom doors
A good option that comes to mind is to install a mirror on the inside of the bathroom door if you live in a studio or one-bedroom apartment. This distinctive and practical design will optimise the area you have available to you and will make it much more pleasant for you to assess your clothing.
Numerous choices are available. You have the option of either mounting the mirror on the door itself or integrating it into the door so that it acts as a frame for the mirror. In addition, if you choose to do it this way, you may create a collage out of smaller pieces of glass.
Shoji screen bathroom doors
You may go for the Shoji screens instead of the standard patterns that are available for your bathroom door if you like the look of décor that is influenced by Japanese culture.
The framework of these kinds of doors is made of wood, and the window-like sections are constructed out of a particular form of rice paper that has a durable texture. They provide aesthetic value while also altering the ambience of the space they inhabit. Note that this choice is not a long-lasting one, even if the paper used is not very delicate.
Panel doors
It's true that the typical bathroom doors may seem to be a little boring, but with a little bit of work, you can give them a distinctive look.
You will get a timeless and adaptable aesthetic for your room no matter which choice you choose, irrespective of whether it consists of a single big wooden panel or a number of smaller panels of varied sizes.
Also read: False Ceiling Design: Ideas to Decorate your ceiling
These doors are resistant to moisture buildup, sturdy & dependable.
In addition, they will blend in with the majority of different types of homes.
If you want something more unique for your house but don't want to make a major financial commitment, you may give your bathroom a boost of vitality and elegance by painting the door in a certain colour.
Vivid-pained bathroom doors
Painting the door to the bathroom in a vibrant colour is a wonderful way to draw attention to it and make it into a beautiful and functional aspect of your home's overall appearance.
It won't matter as much if this door is an inappropriate size or form or if it's in poor condition if you decorate it with a colour that is one of a kind.
To put it another way, this is an option that won't break the bank while yet drawing a lot of attention to itself.
Chalk bathroom doors
Adding a charming and whimsical touch to the area may be accomplished by painting the internal panel of the door to your bathroom with blackboard paint.
You may want to think about the possibility of asking your loved ones to write a note and stick it to the door of the bathroom after they use it so that you can read it later.
Folding bathroom doors
This particular kind of bathroom door appeals to me since it makes efficient use of the available space.
It is really necessary if your bathroom is smaller.
In addition, this bifold door made of wood is exquisite in both design and appearance.
You also have the added benefit of being able to paint it anytime you feel like giving your room a new look. This is a significant advantage.
Alternative bathroom door options
You may want to give some thought to this one-of-a-kind suggestion and set up a hidden entrance in the form of a bookshelf in the bathroom.
Even if they are not the most functional choice for our objective, they are a lot of fun and really stunning.
Beaded doors for the bathroom are an option worth considering in the event that you have a private bathroom that is linked to your bedroom.
Beads, however, are not a practical option for houses with several individuals living in them.
Use of curtains rather than doors –
You may get the desired level of privacy with the use of curtains, even if the door to the room is locked.
Installing them is a simple and easy process, and they provide a suitable alternative.
Things to consider when choosing a Bathroom door
Dimensions of the Bathroom Door
When you are considering the design of the entrance to your bathroom, you will need to be certain that the door not only complies with the applicable building codes but is also the appropriate size for the area.
The normal height for bathroom doors is 80 inches, and their width may range anywhere from 24 to 36 inches.
In addition, your door has to be at least the minimum size required for a bathroom door.
Bathroom Door knobs
It is important to remember the knobs when you are planning the style of the door for your bathroom.
In spite of the fact that door knobs most of the time make an understated statement, they offer flair and highlight the décor in your bathroom.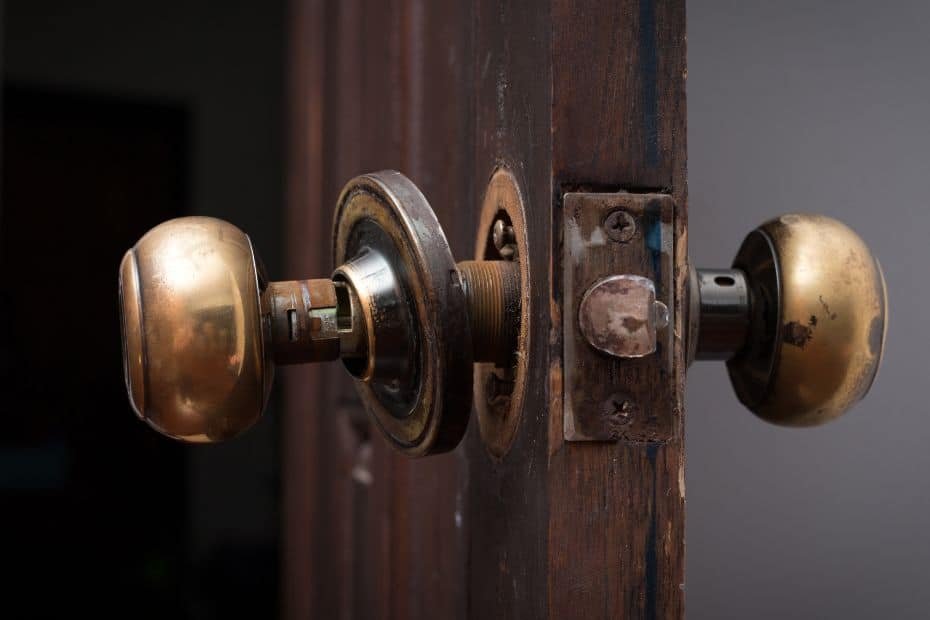 Handles and knobs for doors are available in a wide variety of styles, ranging from contemporary to classic, and in a number of different finishes, including nickel, chrome, and brass.
When it comes to choosing the appropriate door knobs, there are a few things you'll want to keep in mind, including the following:
Type – For your bathroom, you have the option of selecting privacy handles or passage handles.
Measurements- Determine the diameter of the hole in the door where the knob will be attached, as well as the door's thickness and the distance from the door's centre to its edge.
Material – Door knobs are available in a wide variety of materials, and it is important that you choose the material that is most suitable for the design of your bathroom. There are several materials available, including cut glass and crystal, ceramic, stainless steel, brass, and more.
Door knobs have the potential to highlight the elegance of both your house and your bathroom. The terms "Victorian," "bohemian," "eclectic," and "transitional" all refer to different designs of door handles.
Installation – Door knobs and handles often come with detailed, step-by-step installation instructions and are not too difficult to put in. To do the work, you will probably just need a screwdriver as the only tool.
Bathroom Door Locks
Are you able to find peace and quiet in your bathroom?
Then it is vital to secure the doorway, and there are many different kinds of locks that may be used for your bathroom.
You should look for a lock that is reliable, simple to use, and won't get stuck while you're in there using the bathroom.
There are primarily four different locks that may be used on the door of your bathroom.
Locks with deadbolts are often installed separately from door handles or knobs that do not have a locking mechanism. These types of locks are more common in residential settings.
They are simple to use and come with a key that can be used to open them from the outside.
Handleset locks, sometimes known simply as handle locks, are locks that are attached to the door handles themselves.
They are effective, although they are prone to being clogged.
If you don't want locks, passage locks are ideal.
Even while passage locks do not technically have a locking mechanism, it is a good idea to use them if you have small children in the house.
These are distinguished by their button-operated locking mechanisms, which provide privacy purposes.
Simply pressing the button will result in the door being locked securely.
And to release it, all you have to do is push it once again.
Organizer that Hangs Over the Door in the Bathroom
Over-the-door bathroom organisers are excellent space savers, and they are useful whether you are trying to maximise your storage choices or are living in a small space.
You may keep things in a bathroom organiser such as:
toilet paper,
cleaning supplies,
cosmetic goods,
medication,
candles, and
décor
You can find organisers in a variety of forms and sizes, and some of them come with hangers that can be used for bath towels and clothing.